Experience the wildest species of rainbows you will find - If you fished a variety of places and have never fished for Steelhead, this experience needs to be on your list of things to do in this lifetime!



Target: Steelhead, which are anadromous (or sea-run rainbows migrating up the freshwater portion of the Dean River en route to spawn).

Lodge: Blackwell's Dean River lodge is only a 10 minute drive away from the river where we will board a jet boat and begin fishing. All fishing is wading and casting, the boat is used to position the anglers on the runs and to move up and down the river. - Blackwell's normally begins fishing at 8 am; every one gets together at a scenic spot on the river for a hot lunch mid day and back to the lodge in time to prepare for dinner served at 7 to 8 pm. Two guides are provided for 6 anglers. The guides are experienced, very friendly and helpful. Rods should be 8 or 9 weight, these are big fish and VERY HOT due to the close proximity to salt water. Many fish will have sea lice. Most of the anglers who fish the Dean River and have also fished several other rivers in various parts of the world for anadromas species report that the Dean River fish are the strongest of all. John Blackwell attributes this to the many miles of whitewater the Steelhead travel to get to the headwaters to spawn. The Dean River is unique in that it may be the only river where Steelhead is the dominant specie.

Because of the short season, the guides and lodges are anxious to know our group size, which we will cap at 6 total total spots. We already have two committed and several others seriously interested including yours truly. If you are interested and have not told me so, let's talk asap. Please give me a call if you do have an interest and we can discuss additional details with you personally.

A brief summary of our itinerary.
Thurs Aug 16 or Aug 17 am Fly to Vancouver, British Columbia.


Friday Aug 17 3:00 pm – Charter flight from Vancouver to Blackwell's Dean River Lodge


Saturday Aug 18 - Friday Aug 24 – Float/wade fish rivers in Lower Dean River for steelhead


Friday Aug 24 2:00 pm – Return to Vancouver where most of us will overnight.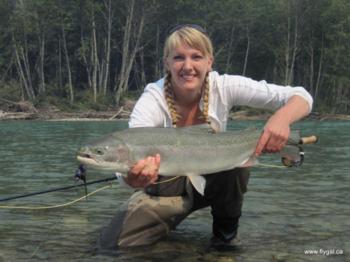 Trip price: $5200 per person double occupancy plus 6% Canadian tax *

Deposit: 50% down (cash or check); balance due June 10.
Included: Lodging and meals at Blackwell's. Guided fishing trips each day; one guide for three fishing enthusiasts.

Not included: Airfare to and from Vancouver; charter from Vancouver to Blackwells Dean River Lodge ($950* round trip payable [when] to [whom]); Gratuities for guides; alcoholic beverages; fishing licenses in BC (Can$ 440). Rates above do not include overnight and meals at the hotel in Vancouver, for which we suggest you budget $250 per person for each end of the trip during which you overnight in Vancouver. ( I will be arriving Thursday 8/16 and recommend this for anyone who cannot get to Vancouver without a later backup flight.)

Total availability: Booked out

*Add 6% Canadian tax to all prices above (except tips).