Virginia offers a variety in fly fishing experience which few states can match. New Zealand may make the headlines for its huge browns, and Patagonia or Alaska for monstrous rainbows, but few countries or states offer the chance to catch so many species in a short geographic area as the Blue Ridge Mountains of Virginia. At Angler's Lane we have offered certain components of this experience over the years. Two years ago we put together a trip offering a combination of venues during which one can enjoy the breadth of the Virginia beauty and fly fishing experience while not having to pay huge bucks for plane flights overseas. Our clients thoroughly enjoyed this trip so we are offering it again this year.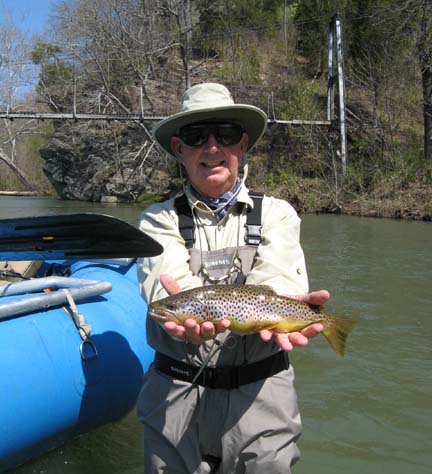 Our trip starts in the mountains on the Jackson River, which we like to call the headwaters of the James. You will be lodging at Stonesthrow on Jackson, our cabin on the tailwater section of the river below Lake Moomaw. Since construction of Gathright dam in 1984, the river has produced a steady crop of wild rainbow and brown trout, even though it has experienced an exciting history of flux between interested parties. You will have the chance to wade fish our private properties there and we will navigate you down the river on float trips so you can be on the fish without having to worry about the stepping on landowner toes.

Midweek we will proceed over our lodge and 218-acre property Rivenridge on the Piney River, from which we will launch for float fishing on the James and Staunton Rivers for smallmouth bass. Fishing with Angler's Lane guides you will pursue smallmouth bass--the hardest fighting species in the black bass family--along with chances to hook into gar, walleye, white bass, largemouth bass and even carp--the mystery fish on a flyrod. Those seeking the best of Virginia fly fishing need to enjoy these warmater species which represent the best of mid-summer action.

The beauty of this plan is that Rivenridge offers a natural backup in case of heavy rains, which we have experienced frequently this spring. While one can never guarantee that we will be fishing every day, usually if we get heavy storms on the larger rivers, then Rivenridge offers an a practical and enjoyable fishing option with its native brookies, since it is only 6 miles from the source and the water clears up there quickly after storms.

Please join us for the best of Virginia fly fishing. There is a good chance we can customize these dates if you are the first party to book with us, so let us know quickly of your interest.

If you like what you see, I hope we can receive your commitment soon, as the guides in this area have a fairly short season and need to know our headcount sooner versus later.

We also can host trips mixing our lodges on the Jackson & Piney with other Va and Tennessee rivers where we engage the most knowledgeable guides we know. We will incorporate non-fishing activities inside the trip for your enjoyment and relaxation. We did this in 2014 and our clients had a blast.


Best of Virginia (contact us to select your week)

A brief summary of our itinerary as it stands now:
Monday - Day 1 – Wade fish on your own upon arrival in front of our Stonesthrow cabin on Jackson River. Cookout dinner and overnight at Stonesthrow on Jackson.


Tuesday - Day 2 – Float fish for trout on the Jackson River. Dinner and overnight at Stonesthrow.


Wednesday - Day 3 – Float fish for trout on the Jackson River for half day. Drive to Rivenridge at Piney Forks. Dinner and Overnight at Rivenridge at Piney Forks. Fish for brook trout on South and North Fork of Piney River while chef is cooking dinner.

Thursday - Day 4 - Fish for brookies early in am. Early lunch and then Float fish James River for smallmouth bass. Dinner and overnight at Rivenridge at Piney Forks.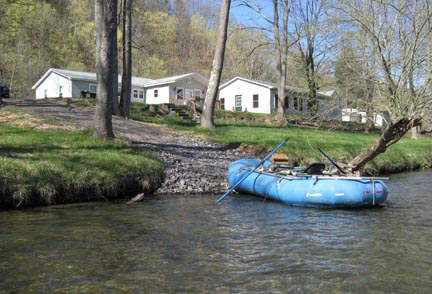 Trip price per person :
$ 2950 Single occupancy
$ 1990 Double occupancy
Deposit $800 reserves your spot;
balance due 10 days prior to trip.
Included: Lodging and meals from Day 1 through Day 5 lunch. All guided fishing trips.

Not included: Airfare; Gratuities for guides; alcoholic beverages; fishing licenses.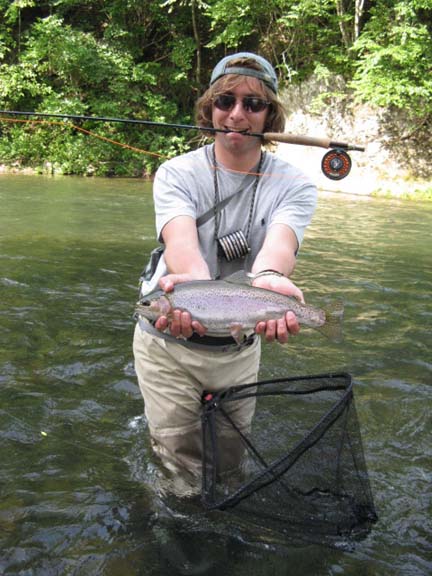 Summer rainbow taken on a nymph in Jackson River tailwater!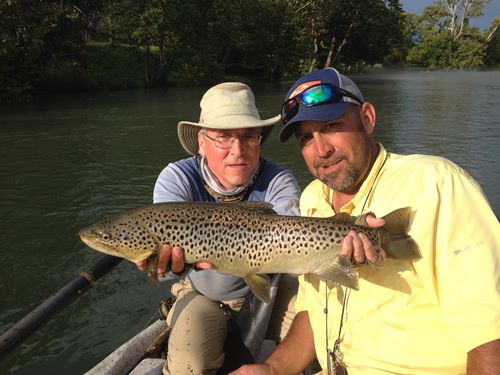 Big Brown on day 5, third river of this past year's Best of Va Trip.
Thanks John and fishing buddy Bob on camera !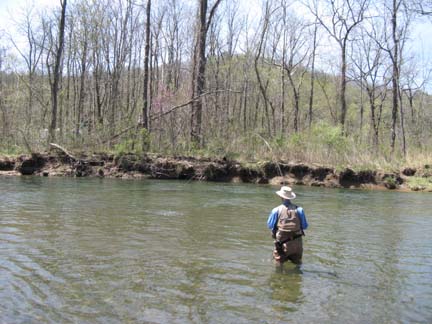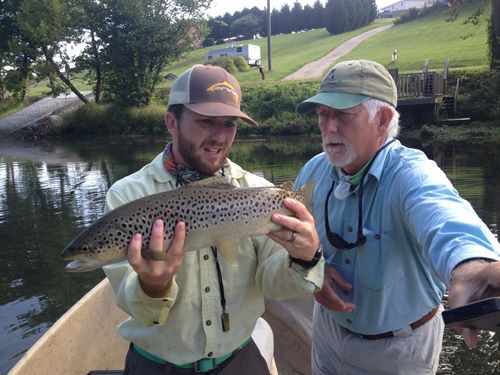 Another big brown--day 6 of this past year's Best of Va Trip. Nice job
Patrick & David!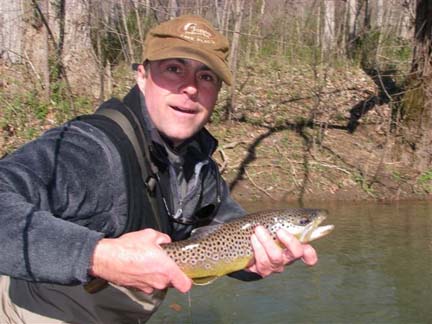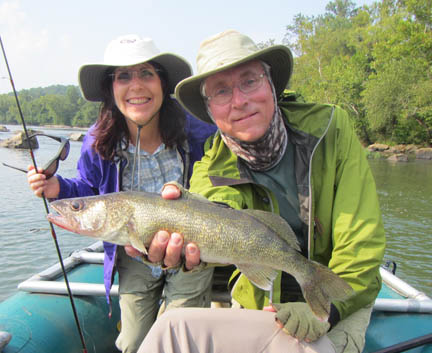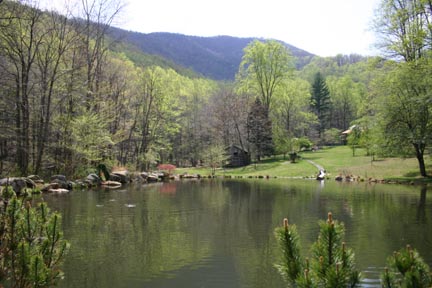 rising trout just in front of Rivenridge at Piney Forks Lodge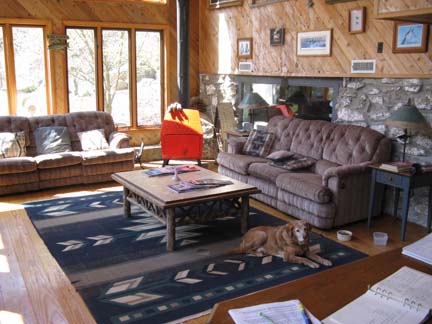 The Rivenridge lodge--where fishing tales are enhanced !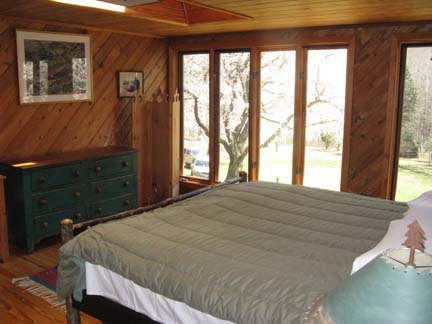 Citation smallmouth are within reach on the James!



Summer-time topwater action on the James!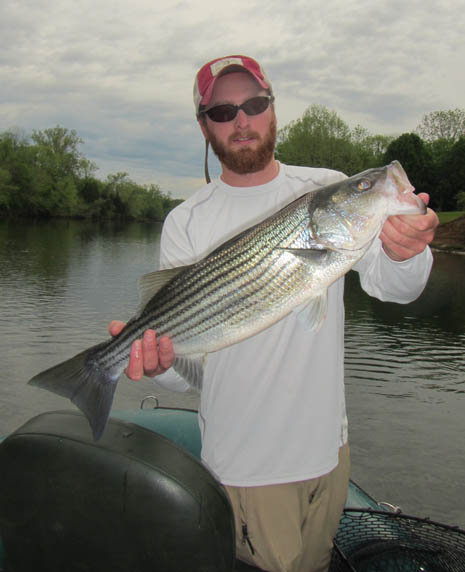 Striper action on the Staunton -- icing on the cake...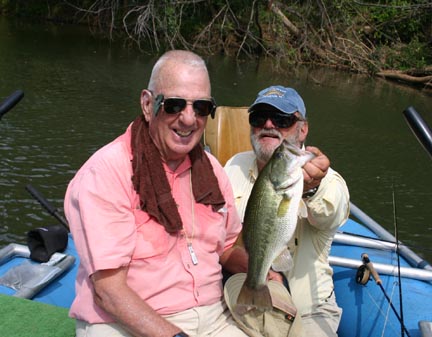 ... a river which delivers plenty of surprises !