Lamson Fly Reels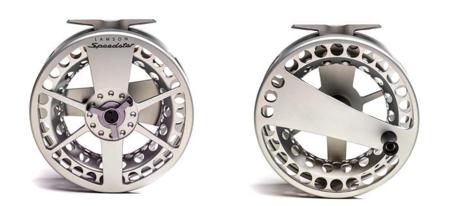 Speedster
Litespeed Micra 5
Guru
Remix
Liquid

The Waterworks-Lamson is not you typical fly fishing company. Here's how they describe their mission and objectives:

Lamson is actually C1 Design Group, and its core expertise is product design. We innovate, invent, design and engineer. Our roots trace back to the bicycle industry, where we designed one of the very first (and very best) clipless pedal systems. In the early 90's, we tackled the hardest challenge in mountain bike design: creating suspension systems that would perform at the cutting edge in all conditions and on all terrains. Lamson's objectives are clear:

Reduce physical weight

Achieve mechanical simplicity

Utilize superior materials

Maximize large arbor benefit

Create the world's best drag system
When we set out to design our own reels, we started by evaluating not just the reel, but the rod/reel system. As we discussed, observed and evaluated rod design at the world's leading rod manufacturers, we quickly came to the conclusion that reels were too heavy. We needed to lighten reels in order to keep pace with the ever-lighter rods and to eliminate the negative impact that a reel has on a rod's casting performance. Call this our first objective: reduce physical weight.

Another objective was to simplify the design of a reel. With any mechanical device, simplicity is a virtue. We saw reels with 80+ parts. It is easy to make something with too many parts; it's hard to make something work with fewer parts. Simplicity means that there is less that can go wrong, can result in the virtue of less physical weight, and moreover, often becomes the catalyst for an elegant design solution.

A third objective was to optimize large arbor benefit. The world is full of reels that call themselves "large arbor" but whose bark in this regard is louder than their bite. Call these reels mid-arbor. We believe in the virtues of large arbor: faster retrieve rate, constant drag tension and elimination of coil memory. So we set out to maximize the benefits.

We felt that we could bring a better reel to market by using superior materials and processes. We looked at fly reels and saw materials being used that were cutting edge in 10 BC. Lamson utilizes materials which are cutting edge today--some which have only become cutting edge in the past 10 years.

Finally, we set out to design the world's best drag system. This meant zero start-up inertia. It meant silk-smooth through the entire torque range. It meant top-end torque sufficient to stop what you catch. It meant that the drag would perform exactly the same under all conditions that one met in real life: water, sand, dirt. It meant that you shouldn't have to think about your drag, ever. No cleaning or lubrication required.
At Angler's Lane we enjoy the range of the reels we carry. Lamson ranks ranks among the very best in design and structural integrity. We love their reels and recommend them highly to our customers.